What is Cyber Threat Intelligence?
written by Thomas Johnson, On January 12, 2023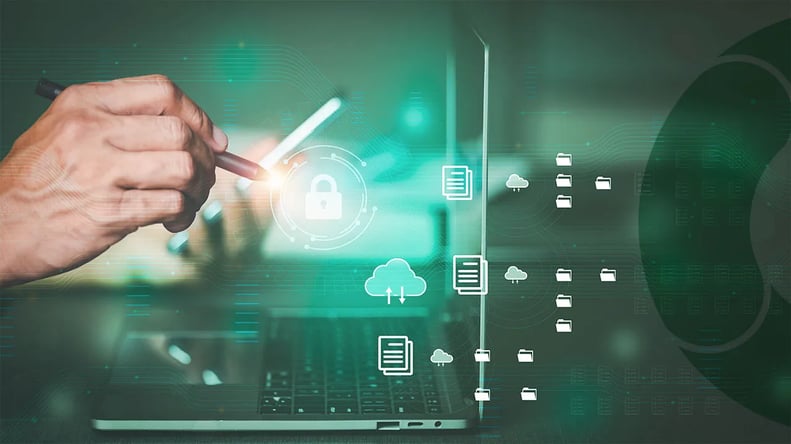 Digital threats continue to increase worldwide and are a significant concern for organizations because of their risks. Today, malicious actors are conducting more advanced cyber attacks with severe consequences for businesses.
In such an environment full of cyber risks, cyber threat intelligence (CTI) plays a crucial role in strengthening the security posture of organizations. So if you want to prevent cyber risks in your company, you need to know what cyber threat intelligence is, its types, benefits, and links to cybersecurity.
Read on to find out more about cyber threat intelligence!
What is Cyber Threat Intelligence?
Cyber threat intelligence consists of evidence-based knowledge of an existing or emerging threat or danger to assets, which can be used to inform decisions about the response to that threat or risk.
This selected information will help you make better decisions about defending and protecting your company from cyber threats. Some of the questions threat intelligence can answer include:
Who are my opponents, and how can they attack me?

How does the attack affect my company's security?

What do my security operations teams need to consider?

How can I reduce the risk of a cyber attack on my company?
In this way, it prepares organizations to be proactive with predictive rather than reactive capabilities in the face of future cyberattacks.
Pro tip: Knowing vulnerabilities, threat indicators, and how cyber-attacks are executed is necessary to combat them effectively.
Cyber intelligence advantages
Some of the benefits your company will have by incorporating cyber intelligence are:
Better cyber attack prevention
Professionals can use cyber intelligence to prevent and contain these offensives more quickly, elevating corporate security at all levels, including the network and the cloud.
Reduce the risks of cyber threats
It helps organizations gain valuable insight into these threats, create effective defense mechanisms and mitigate risks that can cause financial and reputational damage.
Alert triage
Identifies threats faster and filters out false alarms. Also, avoid using alerts for attacks that are less likely to affect your organization.
Incident response
It helps obtain real-time attack data, enabling staff to take action to neutralize the threat at the point of origin. In addition, the time spent manually extracting cyberattack data is reduced, speeding up response;
Improved decision-making
Using cyber intelligence to make informed risk management decisions will equip your organization with a comprehensive cybersecurity policy.
Types of cyber intelligence
Regardless of the type of threat, protecting yourself effectively and preemptively is only possible through cyber intelligence. Due to the ever-improving level of sophistication of attacks, it is essential to collect as much data as possible on these invaders to anticipate their actions.
Here are the 4 types of cyber intelligence that can help your organization act proactively:
Strategic
Strategic cyber intelligence provides an overview of the threat scenario that may affect the organization, vulnerabilities, associated risks, preventive actions that can be taken, offensive targets, and their severity.
It is a less technical approach, allowing IT professionals to drive a high-level organizational strategy based on the report's findings.
Tactical
Tactical mode, on the other hand, consists of more specific details about the threats and serves primarily for the security team to understand the attack vectors. Cyber intelligence provides information on how to build a defense strategy to mitigate these attacks.
Pro tip: The report includes vulnerabilities in security systems that attackers can exploit and how to identify offensives.
Technical
Technical cyber intelligence focuses on specific clues or evidence of an attack and creates a basis for analyzing them agilely. This checks for compromised indicators, including reported IP addresses, phishing email content, malware samples, and fraudulent URLs.
Pro tip: The timing of this assessment is critical, as traces become obsolete in a matter of days.
Operational
Operational cyber intelligence focuses on knowledge of attacks. It provides detailed information on factors such as the nature, motive, timing, and manner in which an attack is carried out.
Typically, the information is gathered on the Internet, either from cyberattack news, forums, or even hacker chat rooms.
Stages of threat intelligence.
Creating actionable threat intelligence is a continuous life cycle of six stages described below.
Direction
The cyber threat intelligence lifecycle begins with establishing and prioritizing which assets and business processes need to be protected and understanding the consequences of their compromise.
Collection
Once the critical assets requiring protection have been established, the types of data and sources of information about what poses a threat to those assets must be identified.
Processing
After collection, the raw threat data must be organized and cleaned to eliminate false positives and redundancies and translated into a usable format.
Analysis
The primary objective is to identify potential security issues and develop actionable insights based on the needs described in the direction.
Dissemination
Organizations have multiple teams that rely on cyber threat intelligence to manage corporate risk. Therefore, the level of knowledge of each team must be considered to provide information in an appropriate format and timeline.
Feedback
Provides end users the opportunity to guide the next intelligence cycle. Continuous feedback from all teams ensures that their intellectual needs are met and allows adjustments to be made in response to business priorities.
Bonus -What is the relationship between cyber intelligence and cybersecurity?
Cyber threat intelligence protects cybersecurity teams through a deep understanding and knowledge of how cyber threats can be avoided or addressed.
Cyber threat intelligence is the one that will anticipate and predict cyber threats and understand where they come from, who can bring that threat, who the enemy is, and how it will reach the company. On the other hand, after receiving this information, cybersecurity will protect the system and try to correct the problem so that it does not become a risk in the future.
Conclusion
As we have seen, cyber threat intelligence is key to ensuring that cybercriminals cannot exploit weaknesses in the enterprise. Integrating strategic, tactical, technical, and operational threat intelligence will provide valuable information on threat methodologies and actors. It will make environments more secure, and you will be able to identify better IT risks in your company. It is why many public and private sector organizations are using cyber threat intelligence.
If you want to improve your company's risk management, Pirani's Information Security Management System is an excellent place to start. Contact us or register on our platform to learn more about it.
Upgrade your enterprise risk management right now!