Top 10 Best Risk Management Software: Review,Pros, And Cons
written by Thomas Johnson, On July 25, 2023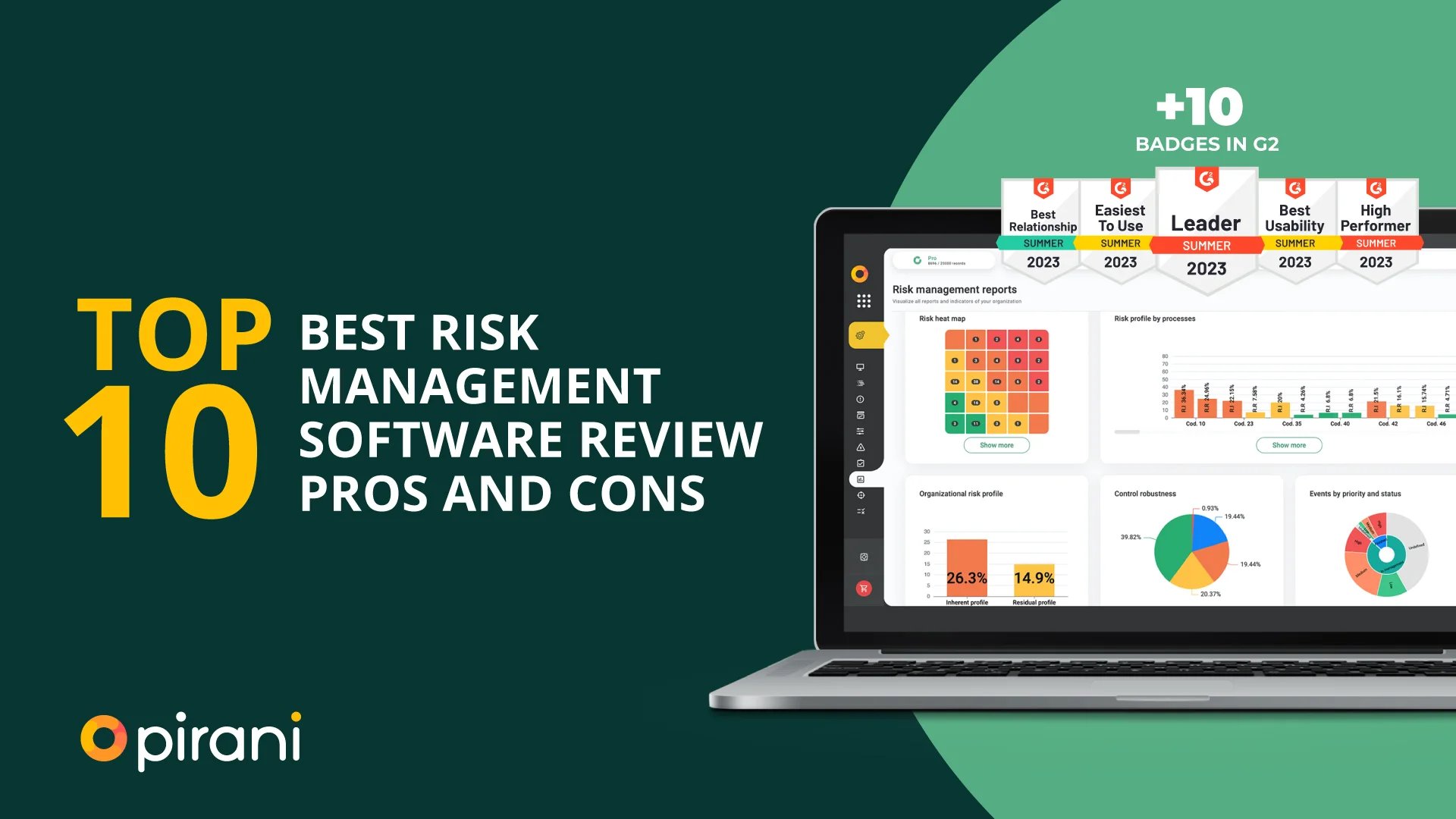 Need help with risk management within your company? It doesn't have to be complicated if you have the right tool. If you've done your homework and searched online, you've probably found an overwhelming hundred options that promise to automate and simplify identifying and controlling potential hazards. Which one to choose?
To help you find the perfect option for your company, we've done in-depth research and selected the top ten options based on their features, ease of use, advantages, and disadvantages.
Let's start our countdown!
#1 Pirani
Best to decentralize risks.
Review
Pirani is a comprehensive risk management solution that, through an intuitive and flexible platform, allows financial organizations to identify threats to their market viability. It allows the quick to create risk matrices and heat maps, including indicators, and to follow the internal control measures implemented in real time.
Features:
Processes large volumes of data.
Data storage and confidentiality.
Customizable tool.
Risk matrix elaboration.
Reports and graphs on risk controls.
Real-time monitoring of operational risks.
Internal audit module.
Internal anti-money laundering controls.
Regulatory compliance.
Integration with ChatGPT.
Pros
Easy to set up and use.
It simplifies risk prioritization.
24/7 customer support.
Support in English and Spanish.
Issues risk alerts.
Free trial.

Cons
It is dedicated to financial, mining, and insurance organizations.
#2 Hyperproof
Best for standardization of activities.
Review
Hyperproof is a risk management solution that provides users with an automated platform to track potential risks in real-time as the organization grows; its strength is that it shows leaders and teams what everyone is doing and how they are doing it.
Features
Risk Summary.
Risk assessment.
User-friendly charts.
Report creation.
Task tracking.
Operations status.
Internal and project audits.
Issue tracking.
Pros
Three pricing modes (professional, enterprise, business).
Multiple integrations (Jira, Microsoft, AWS, Azure, etc.)
It fits large and small companies.
Free Demo.
Cons
The audit option does not allow adding tags.
It does not show notifications for integrations.
#3 SecurityScordCard
Best for visibility of cyberattacks.
Review
SecurityScordCard is an IT risk management software that helps companies implement an ecosystem to control cyber threats that can hinder their growth, so it examines everything from internal operations to the supply and distribution chain.
Features
Risk scoring.
Network and application monitoring.
Workflow automation.
Organizational health level.
Reputational risk identification.
Suspicious activity monitoring.
Cyber-attack history.
External integrations with CrowdStrike, Spunk, etc.
Pros
The vulnerability monitoring option detects insecure access points.
Immediate updates
Cons
Troubleshooting suggestions should be more comprehensive.
#4 Fastpath
Best for fast implementation.
Review
FastPath is a cloud-based tool that delivers a fast and convenient user experience, allowing organization members greater access and control of the dangers that threaten their operations. Enable the creation of a secure ecosystem by integrating multiple sites and applications to automate controls and increase efficiency.
Features
Security verification.
Secure access control and management.
Transaction tracking and monitoring.
Application security analysis.
Efficient audits.
Scheduled access certification reviews.
Tracking of changes in areas, levels, and operations.
More than 16 integrations are available.
Pros
It encourages member interconnectivity.
Creation of automated workflows.
Free Demo.
It includes user training.
Cons
#5 LogicGate Risk Cloud
Best for communicating risk.
Review
LogicGate Risk Cloud is a scalable solution that makes it easy for companies to control risk and compliance through a user-friendly interface that provides users with an overview of internal processes and systems, with real-time analysis and performance metrics of internal controls.
Features
Corrective action alerting and notification.
Custom process design.
Risk reporting and document creation.
Activity and process history and repository.
Centralizes data.
Data accessibility.
Real-time activity tracking.
Different types of audits.
Pros
Fast implementation.
Personalized customer service.
Easy learning curve.
Cons
Integration with other tools is poor.
Customization options are expensive.
#6 IBM OpenPages
Best to review internal policies.
Review
IBM presents a solution dedicated to controlling and mitigating operational risks and regulatory compliance, offering a broader view of potential threats with an emphasis on tracking the responsibilities of each member to create a secure environment.
Features
Advanced data analysis.
Risk assessment model.
Regulatory change implementation.
IT risk analysis.
Policy and regulatory monitoring.
Internal audits with integrated questionnaires.
Integration with IA.
Pros
It has a regulator of the interactions in the work cycle.
It presents information in colorful, user-friendly graphs that measure the effectiveness or otherwise of controls and operations.
Scalable and flexible option.
Cons
Executing the tasks takes more than a few simple steps.
The tool needs Excel to generate reports.
Dedicated only to financial entities.
#7 Apptega
Best for creating cybersecurity reports.
Review
Apptega is an excellent IT risk management software that eases the manual workload of teams focused on implementing effective cybersecurity programs, and the best part is that it helps them leave the use of spreadsheets behind with the automatic creation of dynamic reports and graphs.
Features
Include SOC2 and HIPPA.
Cyber Attack Assessment.
Cybersecurity Program Compliance Scores.
Risk management.
Automated audit management.
Reporting.
Pros
Apptega offers a free trial.
It can be an expensive option.
Cons
It is a tool designed for smaller IT companies.
#8 Soterion
Best for easy learning.
Review
Soterion is a tool that offers companies detailed reports of their risk situation; what makes it unique is that it presents in a friendly language all the information the user needs to make the best decision. Its user interface and multiple colorful graphs give you control over your activities.
Features
GRC process.
Central risk identification.
Data privacy.
Password protection.
Periodic review.
Access review.
Regulatory review.
Quick audits.
Pros
Fast learning curve.
It offers a subscription model or purchase of the product.
Cons
Available in English only.
No trial periods.
#9 Azure Policy
Best for defining policies.
Review
Azure Policy encourages the organization's leaders to have proper control over creating and enforcing their internal policies. To this end, the platform features a user-friendly dashboard that gives them 360° visibility into the overall state of the organization in the face of risk.
Features
Definition and monitoring of security policies.
Resource evaluation.
Granularity by resource and policy.
Regulatory compliance.
Reporting and alerting.
Real-time monitoring.
Pros
It optimizes leadership and tiered risk control.
Information is quickly sorted and found.
Cons
It is a tool that requires some technical knowledge to use.
The customization option takes some time entirely to set up.
#10 LogicManager
Best to take care of the business reputation.
Review
LogicManager, launched in 2006, is a tool that helps users anticipate threats that can affect their performance and reputation in the marketplace. How does it do this? It connects risk silos through a central hub that links all departments.
Features
Event taxonomy.
"What if" scenarios.
AI integration.
API Access.
Activity monitoring.
Linking risk silos.
Centralize information.
Multiple access.
Tracking and alerts.
Audit planning and management.
Pros
It is a very easy-to-use solution with no need for technical knowledge.
It is a scalable software whose options and features increase as the organization grows.
Friendly customer service.
Cons
Automatic reporting is limited.
No free trial.
What about you?
Have you tried any of these tools? How was your experience? Did we miss any of them in our top 10?
Let us know in the comments!