Top 10 Best Information Security Software
written by Thomas Johnson, On August 25, 2023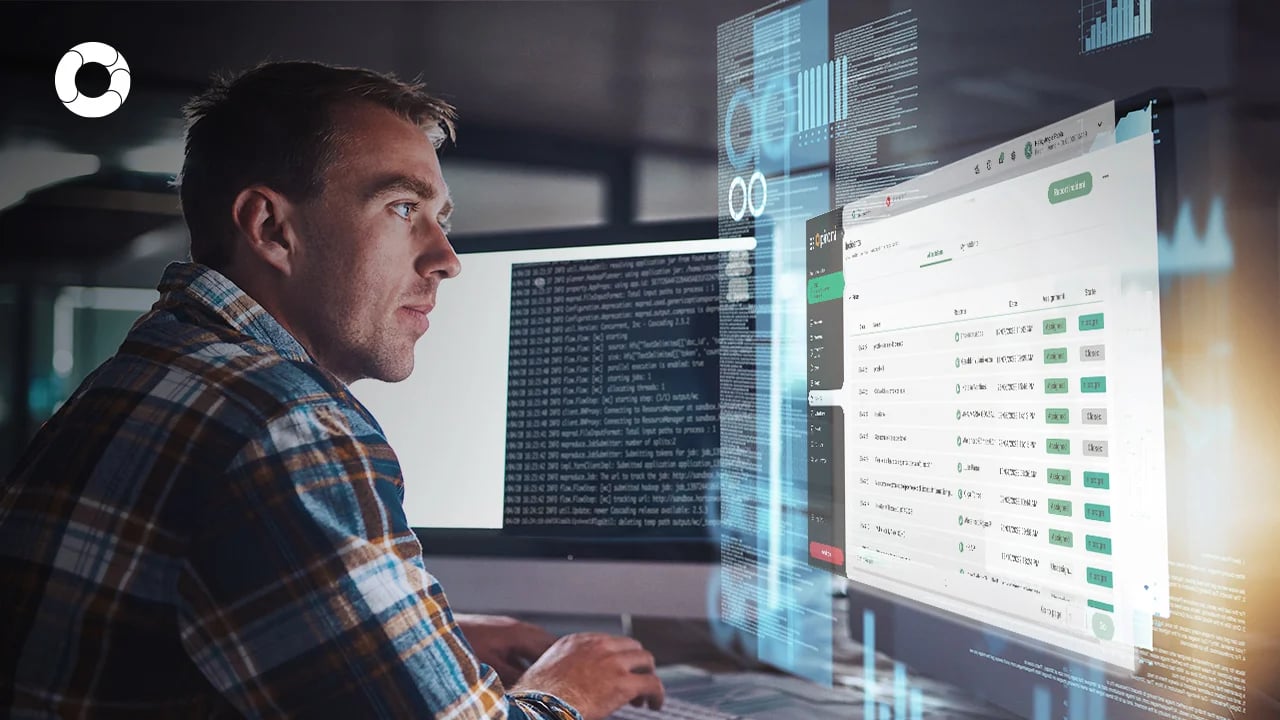 Are you concerned about the security and confidentiality of your organization's data? Do you want to control access to critical data and infrastructure? Information security software may be the solution you are looking for! However, if you have already searched the Internet, you know that hundreds of options are available online, so choosing the right one can be overwhelming and challenging.
We present the top ten cybersecurity solutions to manage your information security to make your selection easier.
Let's get started!
What is Information security software?
It is a software solution created to protect against data leakage, malicious access, or theft of the systems, networks, and devices through which an organization's information is collected, stored, and processed. Its objective is to protect the organization against cyber threats, avoid financial losses and reputational damage, and ensure the privacy of its clients or users' information.
Information security solutions ensure that information from all areas and levels of the organization is viewed, used, and stored securely and has adequate protection mechanisms according to the applicable standards to prevent risks of leaks, ransomware, malware, etc.
What is the best cybersecurity solution?
We have selected based on objective criteria, such as its overall features, ease of use and administration, and scalability.
Check them out one by one!
Pirani is software that facilitates the effective implementation of an information security management program to ensure its confidentiality, integrity, and availability. The platform centralizes and displays all relevant information, from the control mechanisms, the risk position, and the progress of action and risk prevention plans, so that members of the organization can monitor and evaluate in real-time.
Features
Simplifies risk analysis.
Centralizes information, processes, risks, and controls.
Rapid creation of risk matrices, graphs, and heat maps.
Real-time activity tracking.
ISO 27001-compliant configuration for information management.
Cyber risk action plans and controls.
Real-time incident notification.
Internal audits module.
Access from computers and mobile devices.
Pros
It is a flexible and easy-to-use option that allows users to create particular fields according to their risk management program.
Adaptable, it is an option for companies in different industries.
It facilitates

information

security management compliance.
It is a scalable option with several service plans.
Free 15-day trial.
Cons
The number of controls is limited in the basic plans.
IBM Sec

uri

ty QRadar
IBM presents a cybersecurity solution that allows users to react quickly to threats. The tool tracks and analyzes information and issues alerts upon detection of possible cyberattacks.
Features
Network and anomaly monitoring.
Threat prioritization.
Behavior pattern tracking.
Advanced activity analysis.
Incident reports.
Automates information security.
Pros
It facilitates the management of anomalies in internal networks.
Identifies, classifies, and filters data and accesses correctly.
It creates multiple security backups.
Cons
Integration with third-party tools could be better.
API integration takes time.
It is a tool that requires high technical knowledge.
Microsoft Sentinel
Microsoft Sentinel is a cloud-based option that provides a 360º view of the organization's risk landscape, incorporating artificial intelligence algorithms that quickly detect and respond to threats. This data security software collects data in the cloud from all devices with access to essential data,
Features
Comprehensive analytics on the security and performance of the organization.
Facilitates investigation of critical incidents.
Scheduled alerts and analysis.
Displays connected individuals, endpoints, apps, emails, and documents used.
Integration with all Microsoft tools.
Pros
It maintains an archive of log data.
Free 31-day trial.
Cons
Expensive option.
It requires an intensive training course to understand the options available.
Splunk
Splunk is an information security tool that helps the enterprise make informed decisions to manage its data security and critical infrastructure.
Features
It automates information gathering from different devices.
Splunk analyzes and indexes critical information in real-time.
It includes AI to optimize proactive decision-making.
Compatible with third-party tools.
Pros
Report templates are handy.
Complete visualization of records.
It allows customization of fields.
Cons
Splunk does not offer a free trial.
It needs to improve scalability as the organization's data volume increases.
Administration can be complex due to the architecture of the tool.
AlienVault USM
AlienVault is a data security software offered by AT&T, which focuses on centralizing the identification, analysis, and detection of threats. It is a cloud-based solution that seeks to minimize incident response time.
Features
Cloud-based sensors that monitor the ecosystem of networks and devices.
Centralizes data collection.
Vulnerability assessment.
Identification of critical data.
Threat detection.
Behavioral tracking.
Pros
Easy to understand user interface.
False positive removal is easy to use.
The event monitoring option includes suggestions.
Cons
Operation and maintenance can be complex.
It has a lot of downtime.
It can be a slow tool.
Logpoint
It is a cybersecurity platform that includes SIEM capabilities to ensure the protection and integrity of the organization's data. Its objective is to issue alerts based on real-time activity analysis that allows teams to improve the performance of their control measures.
Features
It lists the top ten risk events.
Tracks action and prevention activities.
Mapping of connections.
It displays malicious connections.
Monitoring the internal position against operational risks.
It displays the company's risk score.
Pros
Multiple customization options.
Dashboard is simple to use and understand.
Cons
Logpoint does not offer a free trial.
The suggestions made by the tool are very generic.
Its user support could be improved.
Logsign Next-Gen
Logsign is a data security software that provides comprehensive security management experience for companies in different industries. It collects and stores large volumes of data and performs rapid behavioral investigations to report anomalies, which it presents in lists identified with color-coded labels according to the risk detected.
Features
Activity monitoring.
Access control.
Risk alert history.
Evaluation of failures.
Advanced behavior and threat analysis.
Incident reporting.
Event taxonomy
It detects vulnerable information sources.
Pros
Longsign allows quick search for events and alerts.
More than 500 predefined integrations.
It presents user-friendly graphics and maps in one place.
Cons
It is an option for small and medium-sized companies.
Threat reporting uses technical language.
Blumira
Blumira is a cybersecurity solution that helps organizations create proactive measures against cyber threats. The tool focuses on quickly stopping data leakage and ransomware by combining access control and automatic responses.
Features
Automatic event alerts.
Friendly information generator.
Activity and event tracking.
Communication between members.
It allows attachment of files and documents to investigations.
Pros
Blumira's alerts are automatically linked to the risk management plan.
It allows users to know what is happening with the information.
Friendly and fast customer support.
Cons
It requires some time to understand the fields and functions of the tool.
Filtering threat information of interest can be complicated.
Cisco Security Manager
Cisco is a data security software that helps businesses keep hackers away from their critical information. So, it presents a centralized dashboard with the problems and faults encountered in real-time.
Features
Activity monitoring: alerts on abnormal activities.
Log monitoring: reports on the security status of storage sites.
Incident management.
Documents cases of abnormal activity and compromised systems.
Threat assessment.
Pros
Automatically resolves common security incidents.
Presents detailed and relevant threat metrics.
Cisco allows you to customize the fields and graphs presented.
Cons
Expensive option.
The email tracker needs to be more accurate.
Monitoring of connected devices takes a few minutes.
Adlumin
Adlumin is a platform that safeguards a company's information and operations security. Its exclusive technology offers analysis, reporting, and management of vulnerabilities. In addition, it shows the level of exposure of internal networks to cyber threats for immediate correction.
Features
Detect anomalous behavior.
Darknet exposure monitoring.
Security automation and response.
Threat hunting and intel.
One-touch compliance reporting.
Pros
It offers a 2-week free trial.
Aludmin collects and indexes information from all sources: devices, VPNs, firewalls, etc.
Integration with other tools.
Cons
Navigation through the interface can be complex at first.
Implementing security patches can be a challenge.
Conclusion
Now the choice is yours! Finding the best tool will depend on your company's information security needs and requirements, the points you consider key to strengthen your security program.
Do you have experience using any of these tools, and have you not missed any of them?