Dynamic reports are here!
written by Natalia Molina, On March 09, 2023
Is there anything better than having all your risk management parameterized in a single platform? Your processes, risks, controls, events and action plans with the exact information your organization needs to manage its risks. Imagine adding to all that to build customized reports, make comparisons with different registers of the management systems you manage and download it in excel or png to present it in audits, boards of directors, etc. It would make management easier, wouldn't it?
Having ✨dynamic reports✨ greatly simplifies risk management, and with Pirani you can have it. In this article I will tell you about our new module and how you will be able to create reports easily and in a few steps in our platform.
These are the types of reports you will be able to generate 📊
1. Data table
With this type of report you will be able to see the data you require in tabular form and filter it by specific fields according to the management system you choose. The results will be displayed automatically at the bottom, it will be divided by columns and you will be able to download it in excel format 🤩.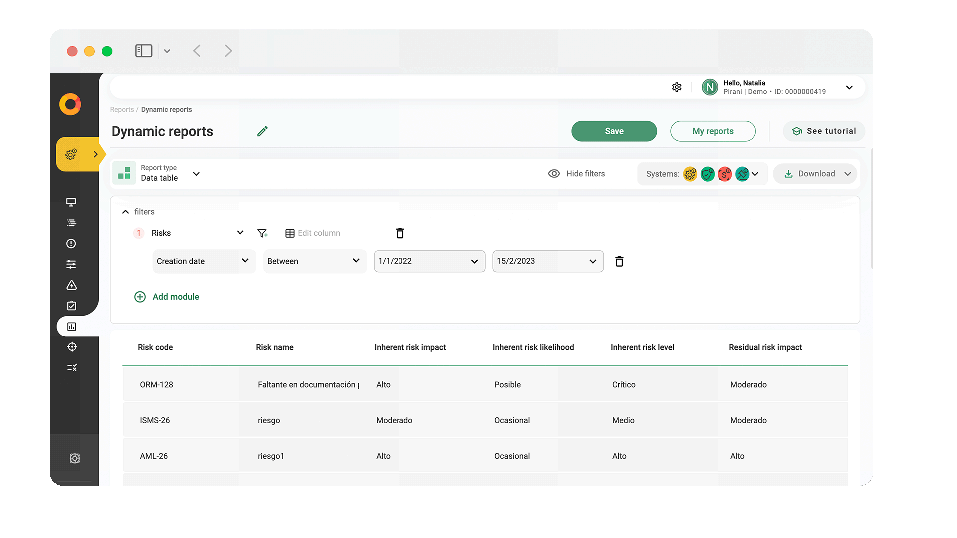 Add and move columns
Something that makes this type of report very interesting is that you will have the possibility to select which fields you want in the report. For example, if you are making a report on risks, you can choose which fields of this module will be shown: their code, name, impact, frequency, risk factor, etc. This way you will only have the precise data you need in the report and best of all you can sort the columns as you see fit by clicking and dragging them.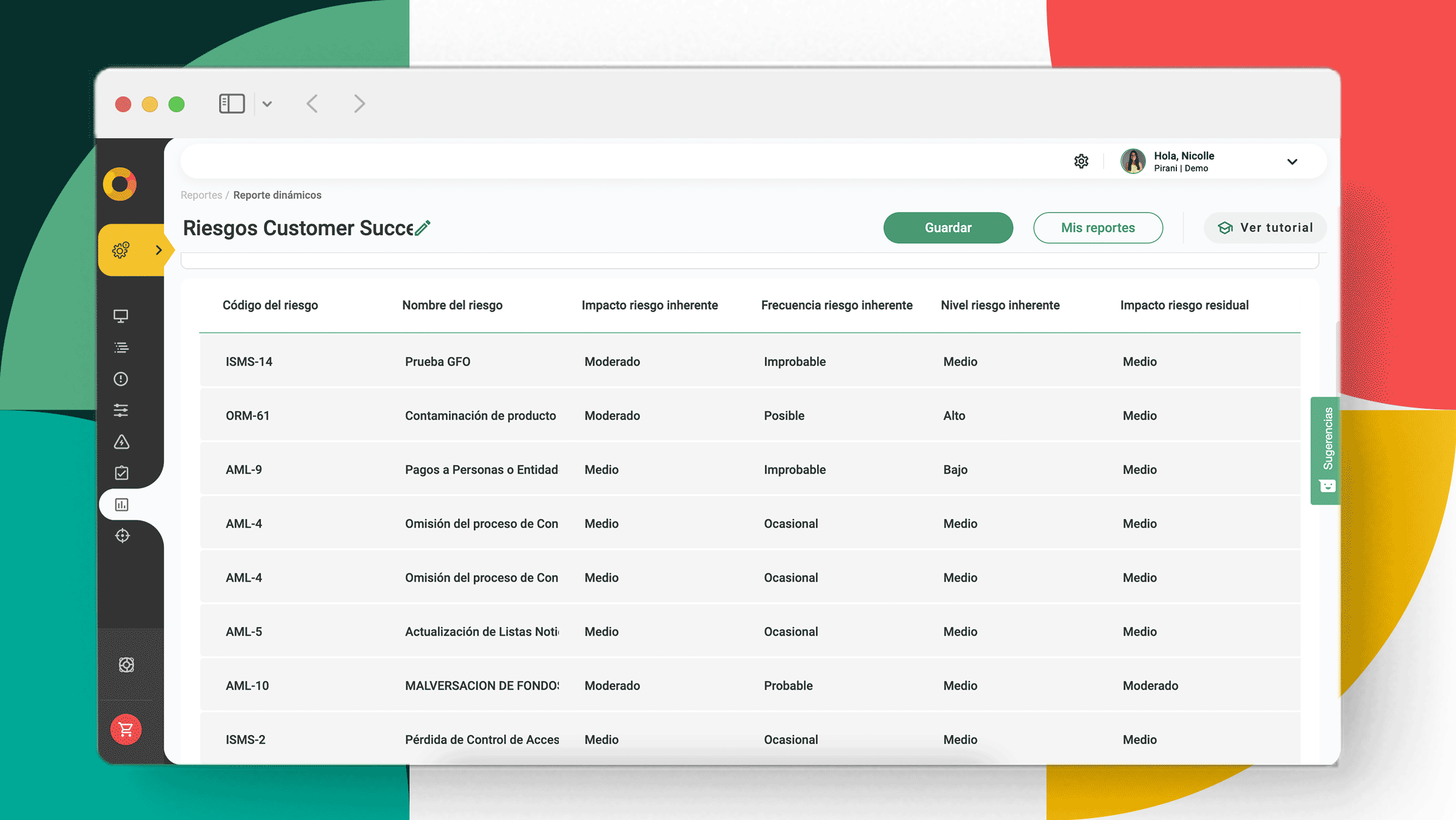 Filter by condition
With this option you can filter, for each module, the conditions you want the report to have. To make the concept clear, let's take an example: If you are making a report of the risk module, you can apply the filter by condition if you want to see only those risks that have a low residual risk level.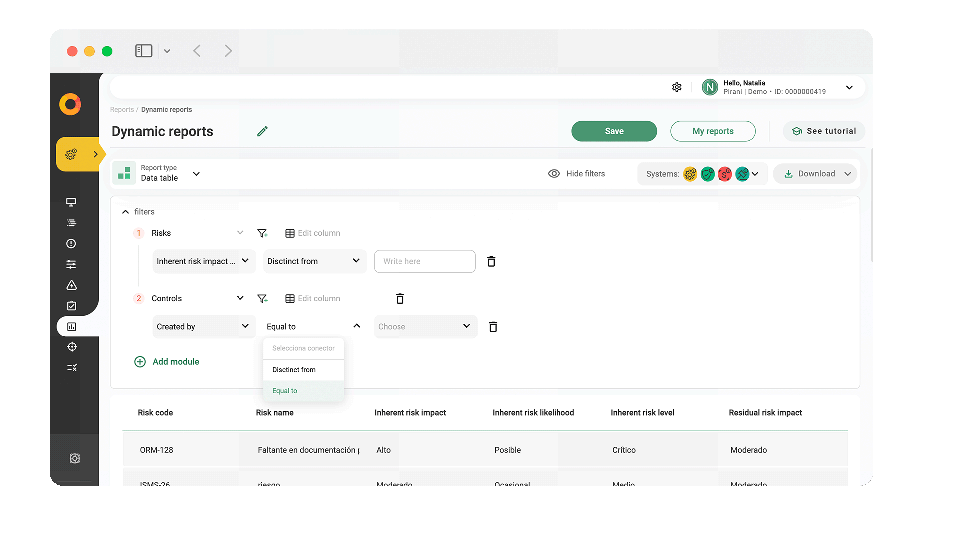 Wait...you still don't use Pirani? 👀
Discover how simple it is to manage your risks and build dynamic reports with Pirani. Try our tool for 15 days FREE and tell me in the comments of the article what you think about dynamic reporting.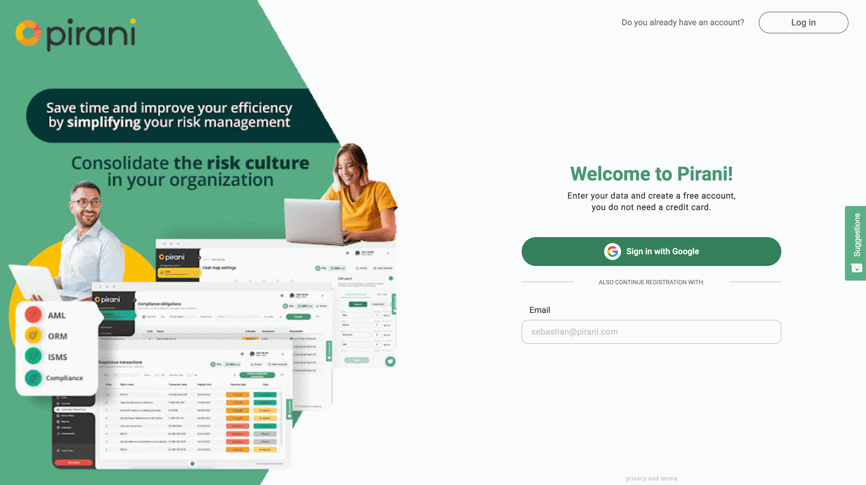 2. Graph
Unlike the Data Table report, in the Graph report the data will not be tabulated but will be displayed in graphs according to the filters you have selected. The information that can be filtered must be quantitative, as qualitative data cannot be graphed.
Finally, you will be able to download your Graph report in png. format at any time ⚡.
Types of graphs
Visualize your graphical report in any of these three forms: linear, bar or foot (this last option can only be enabled when the filter is by count). Here you can take a look at how the graph of each one looks ↓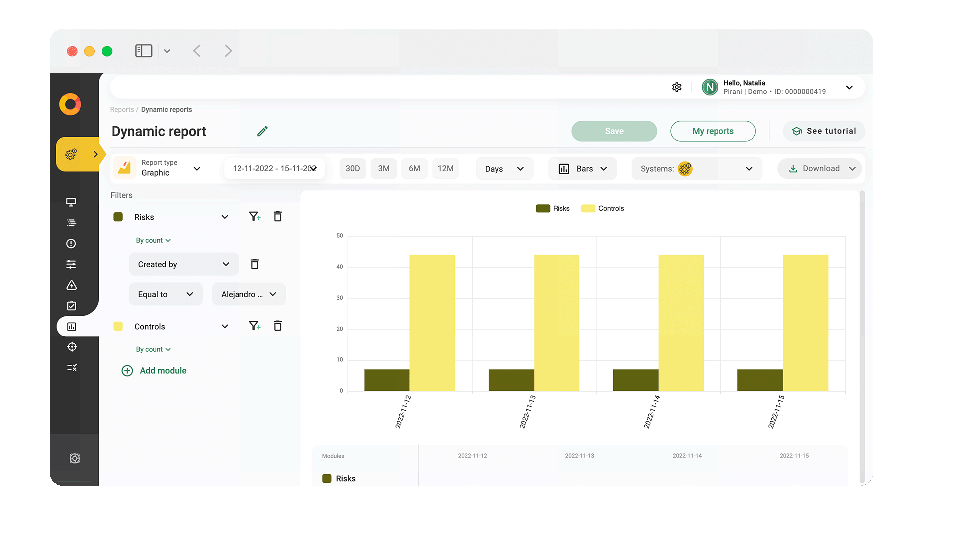 Filter by dates
Want to filter your report by specific dates? Done! The Chart report has a section that will allow you to filter by an exact date range, days, weeks, months or years. The tool will automatically reorganize the data according to the dates you choose.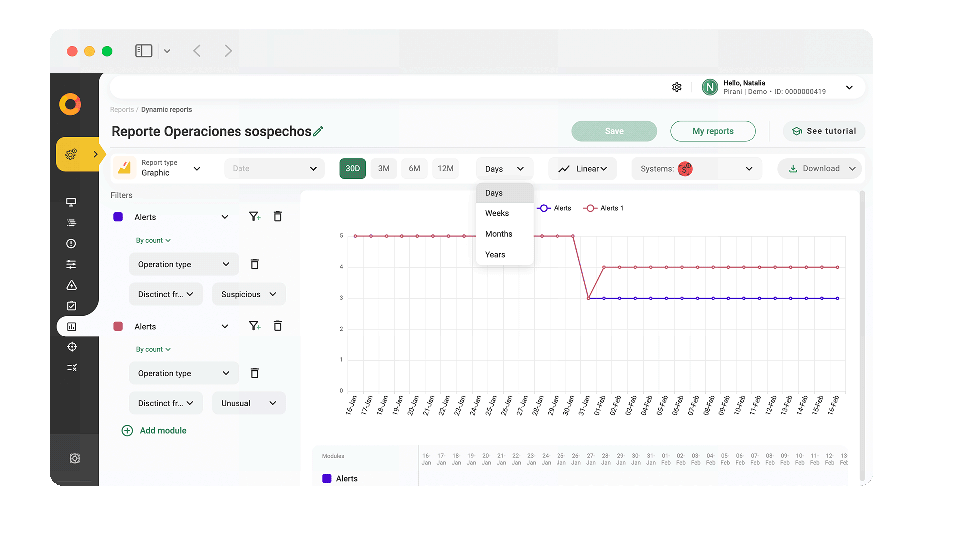 Favorite reports
If you have reports that you will use on a recurring basis in your risk management, you can add them as favorites or set them as default so that you can build other reports based on the data of the favorite or preset report.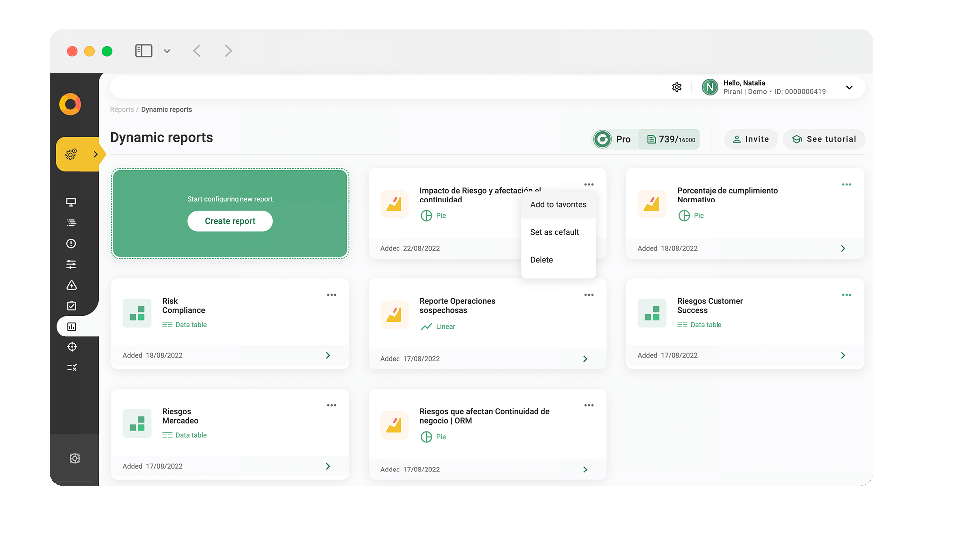 We created a detailed tutorial for you
In this article I told you the main features of our Dynamic Reports module but if you want to know in more depth how to generate these reports I leave you this tutorial where I explain in detail everything about this topic ;).
⚡ Remember that you can have this module from the Enterprise plan and in the free trial.